Interior Services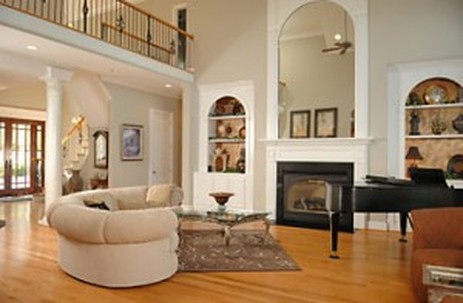 _
Merriam Park Painting will do so much more than just painting walls. We will scrape, fill spackle, sand, and apply paint to enhance and change the overall personality of a room. A paint job consists of coating walls with at least two coats of latex paint after the preparation of the walls have been completed and all the furniture and floor has been covered.
We take care of the smallest touch-ups or paint every room within your home to have the look and feel that you desire. Yes, we vacuum and clean up after each day of work!
Merriam Park Painting offers the following services:
Paint and wood work stripping & revarnishing
Light carpentry work
Wallpaper removal & Hanging
Ceiling/Wall repair
Plaster repair
Drywall
Spray, brush or roll
Specialty finishes
Fine enameling
Texture spraying
Color selection services & Stain Matching
"Merriam Park Painting is a licensed contractor to work anywhere in Minnesota. (Lic # BC727884) We are also a licensed "Lead Certified Firm" in Minnesota We offer training and experience to our painters and courtesy and professionalism to you, our customers."
We use various products including Sherwin Williams, Benjamin Moore, California and other high quality paints. These paints are durable and stain resistant and come in a variety of sheens. Cashmere is another paint product that we use because it is a flat enamel that is both durable and affordable. Because it is flat, it can be used in a wide range of areas within the home. If there is another type of paint you'd like to use, just let us know and we'd be more than happy to apply it in your home.
The Process
You may already know what color of paint you want to use. If you don't, we can help you to decide on color. Once you are on our schedule, we will work with you according to your schedule in order to find out the best time to start the job. We will give you a good indication of the finish date for the job.
As we work, we make sure we clean up the work area. We will sweep, wipe down counters, and ensure that there are no messes for you to have to deal with. Good cleanup is about respect. This commitment to respect is why we will cover surfaces with drop cloths and tape off wood work to ensure no paint drips or splatters reach the floors or furniture. This process includes showers, toilets, and tubs when working in bathrooms, as well as fixtures in your kitchen and other rooms.
Get A Free Interior Painting Quote
---